Children's Radiology, Ultrasound and Computed Tomography - Our Focal Points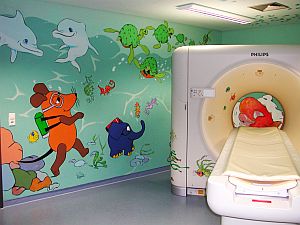 The Children's Radiology with ultrasound and computed tomography is one of our central functional areas. The examination, especially of children, infants and toddlers, requires a special coordination of the patient's circadian rhythm. We do our best to consider it when it comes to the timing of radiological and ultrasound examinations.
Our team, consisting of specially qualified paediatric radiologists and specialists in medical and technical radiology (MTRA), pays attention to a particularly low-radiation procedure. Our employees use modern x-ray and ultrasound equipment as well as computer tomographs based on digital technology. Thus it is possible to examinate all patients from the premature infant with a weight of approx. 500 gramme up to older youths optimally.
Our service spectrum:
X-ray examinations
Contrast medium examinations
Ultrasound (sonography)
Computer tomography