Neuropediatrics<br /> Our Focal Points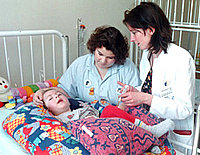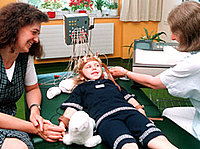 We provide comprehensive care for children with developmental disorders, handicaps and diseases of the nervous system/musculoskeletal system.
The following complaints and disease patterns are at the forefront:
Headache
Physical disability
Infections of the nervous system, meningitis
Genetic syndromes
Lyme disease (Borreliosis)
Muscular disorders
Multiple sclerosis in children and young adults
Rett syndrome
Infantile brain damage
Tuberous sclerosis
Mental disability
The neuropaediatric team consists of:
Physicians
Paediatric nurses
EEG assistants (MTF assistants)
Physiotherapists
Ergotherapists
Social workers
The examination and treatment of the children is based on the principle of "outpatient previous to inpatient". It is being decided according to the individual requirements whether the children are being treated within the authorisation consultation, in the day clinic or on the ward. The long-term attendance of the chronically ill and handicapped children takes place in association with the Social Paediatric Centre.
In association with the Social Paediatric Centre, as well regular conferences take place, where the patients are being examinated all together and where their disease patterns are being discussed in detail.