Otolaryngology (ENT Medicine) - Our Focal Points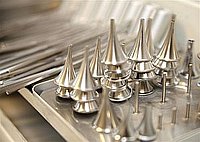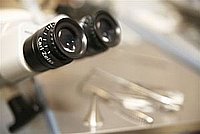 Our department and our team has specialised in the treatment of otolaryngologic diseases of children and adolescents and ranks among the leading institutions of its kind in Germany. In 2010 more than 2000 children and adolescents suffering from otolaryngologic diseases have been treated surgically.
We work hand in hand with the Department for Anaesthesia, Paediatric Intensive Care - and Emergency Medicine , which carries out children's anaesthesia also in case of premature infants and severely handicapped patients on a regular basis. A close cooperation exists with the ENT Clinic of the Nordstadt Clinic in Hanover, with the Sociopaediatric Centre (SPZ), the Cochlear Implant Centre "Wilhelm Hirte" Hanover and of course with the other departments of the Children's and Youth Hospital auf der Bult.
We diagnose and treat on an inpatient, day-care or outpatient basis.
Our focal points:
Removing of mouth tonsils (adenoid vegatations ,"polyps")
Treatment of ambulant and chronic inflammations of the middle ear (acute ear, tympanostomy tube etc.)
partial and total removal of large and diseased palatal tonsils with and without laser technology
Surgical care of tympanum perforations and cholesteatoma (middle ear surgery) as well as corrective surgeries to improve hearing
Treatment of changes to the nose and paranasal sinuses (e. g. nasal septum deviation, hypertrophy of the turbinates)
Operation of mutations the soft tissues of the neck (e. g. cysts of the neck and enlarged lymph nodes)
Treatment of acute hearing deteriorations and vertigo-diseases
Hearing examination as well as fitting of hearing aids
Implantation of vagus nerve stimulators in case of therapy-resistant epilepsy in cooperation with the Department of Neuropaediatrics
Treatment of chronic paranasal sinusitis (minimally invasive sinus surgery)
Diagnosis and therapy of allergic diseases
Diagnostics in case of dysphagia and chronic hoarseness
Diagnosis and operation in case of trachea narrowings