Paediatric Surgery / Paediatric Urology<br /> Our Focal Points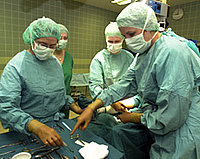 Together with the Paediatric Surgery Clinic of the Hanover Medical School, the paediatric surgery/ paediatric urology of the Children's and Youth Hospital auf der Bult carries on the PAEDIATRIC SURGERY CENTRE HANOVER as one of the largest centres for paediatric surgery in Europe. In the trans-regional centre at both locations the entire spectrum of the maximum and standard care is being offered for premature and newborn babies, children and adolescents.
Outpatient operations (undescended testes, inginual hernias, umbilical hernias, phimosis, metal removals, smaller tumors, …)
Congenital malformations in premature and newborn infants
Surgery on the entire gastro-intestinal tract focusing on anorectal deformations (anal atresia, Hirschsprung's disease) and GÖR (gastroesophageal reflux)
Continence operation
Operating with minimally invasive methods
Endoscopic examinations, (oesophagoscopy, gastro-duodenoscopy, colonoscopy, cystoscopy)
Special paediatric urology focusing on renal and genital deficiencies, intersex)
Paediatric traumatology incl. the treatment of children with severe burn injuries and plastical corrections
Treatment of acute difficulties and long-term care of children with hydrocephalus and spina bifida incl. annual service of a diagnostic/therapeutic week in May for parents and patients in cooperation with the ASHB (Working Committee of the Spina Bifida and Hydrocephalus)
Implantation and Baclofen pump changes
Cranio-facial surgery in cooperation with the maxillary surgery and the ENT-department
Oncological surgery in childhood
Treatment of epidermolysis bullosa ("butterfly children") ; amongst other things hand operations, oesophageal bougienage, gastrostomy disposition
We are partners of the Konbeck (Continence - and Pelvis) -Centre Hanover which organises an annual information event for children and adolescents concerned within the international incontinence week in June.
We offer special consultation hours on an appointment basis by phoning 0511 / 8115-2501:
Paediatric gynecology
Urology
Hydrocephalus and spina
Gastroenterology
Burnings
Indication consultation hours and
Traumatology incl. School accidents
Ambulance of the head of the department by phoning 0511 / 8115-4424 after 14.00 p.m.
Trauma and Reconstructive Surgery
As a new kind of service in Hanover, the department of Paediatric Surgery and Urology of the Children's- and Youth Hospital auf der Bult offers since spring 2011 a cooperation with the department of the BG Trauma Hospital Hamburg within the Diakoniekrankenhaus Friederikenstift gGmbH. This ensures the complete treatment and aftercare of trauma children and adolescents after kindergarten-, school- and road accidents.
Our service includes:
Outpatient and inpatient acute treatment in case of kindergarten-, school- and road accidents
Individual aftercare
Arthroscopic surgery
Special consultation hours
Medical assessment
Acute- and after care of severe burned children and adolescents incl. all corrective surgery